'Blogger' is back at last, so I can finally post again. Sadly, my drafts were deleted so I have to start yesterday's post from scratch. Also, my post about
Kevin James Robbing the Shark
and a picture of the
Shark in Disguise
was deleted too. Maybe I'll repost the pictures... still, lame.
To catch you up. In the final game of the 3 game series with the
(formally-known-as)
Braves
, the Nats
fell 6-5
in 10 innings. The game started out promising.
The Shark
led off with a single,
stole second
but was left stranded when the 2-4 hitters failed to drive him in. Despite this missed opportunity, the
Nats dominated for the first 6 innings
with
Jordan Zimmermann
striking out 11 and the Nationals leading 5-1.
And then things went down hill fast.
Sean Burnett
decided to test the Shark's defensive skills by allowing a game-tying grand slam.
Bernadina
, not expecting this traitor move, couldn't get to the ball in time. The Nats then lifted the Shark
(who also had a walk, SHARK OBP GOING UP)
for a
pinch hitter
and it all fell apart, losing the game in the 10th. After the game,
Burnett
said, "
I was tired of everyone asking me if I am related to the Shark. Just cause our last names both start with Burn... I was weak for a moment. It won't happen again... I'm sorry
."
Watch out Burnett, it's not smart to upset a Shark.
Google Search of the Day:
Someone found the
Sharkadina Blog
by searching "us army shark battle competition 2011."
The US Army Shark Competition
is an annual event where the entire US Army goes is pitted against Roger Bernadina. Bernadina has won the competition going on 10 years in a row. Don't worry, no one is killed in the competition as the Army has never hit Bernadina and even so, the Shark goes easy on them. Below is a photo from last years competition:
Clever girl...
Fantasy Baseball Freebies:
Never start a Starting Pitcher who is playing against the Shark. Unless, for whatever reason, you want a high ERA and WHIP...
Roger Bernadina should be picked up in all fantasy leagues

(especially 15 Team, NL-Only Leagues)

! It's hard to call him a sleeper because he's not a secret anymore, but if you are looking for Runs and SB, he's your shark.
Other Shark News:
The Atlanta Police Department has been reporting an increase in the amount of illegal graffiti all across the city. Says Police Chief Norm Calwell, "
Apparently it's 'cool' to 'tag' your 'hood' with the 'name' of your favorite baseball player. I can't wait until the Nationals leave town.
" It just goes to show that it is hard to quell a Shark fan's spirit
Shark in the lower east side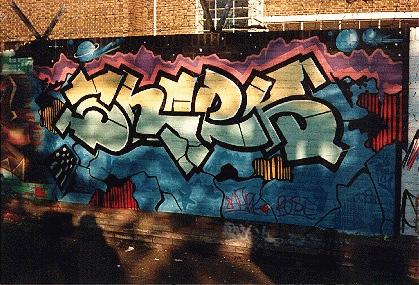 Shark in the middle to upper left side
Shark in the Northwest Southeast docks
More to come.